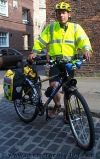 This was the first bicycle to be featured on UKev. On trial for 16 weeks in York's city centre (during summer 2001, and then made permanent) is TENYAS's (Tees, East and North Yorkshire Ambulance Service) paramedic life-cycle, fully equipped to cope with any emergency. The bike is quicker at getting through the tight, winding streets of York than a regular ambulance.





It is fitted out with white lights alongside blue flashing lights and a siren! The siren is similar to a car alarm, with the power provided by a large battery fitted where the water bottle would normally be. It also has a speedometer fitted.





There are two identical bikes, but only one paramedic to ride them. He responds to 2-3 calls per shift, travels about 30 miles per day, and is only used during daylight hours. Both bikes were donated by a private company. The panniers are heavily laden with equipment including an oxygen supply and a defibrillator. They lift off the bike to be carried to a casualty. The rider is equipped with a radio and a mobile telephone for communications. The real benefit of this system is that it is an inexpensive way of having an extra 'ambulance' on the road that can respond to emergencies.


Share     Follow