Barnet Dog Handlers
The London Borough of Barnet has the unique situation of having a body of dog handlers that are designated as constables. Since at least the early 1990s it has had a workforce of zero, but it is believed to still exist in law. The only recent references to this quirky organisation have come from debates in the Houses of Parliament. The dog handlers are believed to be part of the parks staff and there are non-constable equivalents in other London boroughs.
In a written answer on the subject of police complaints procedures, Mr Peter Lloyd made mention of Barnet Dog Handlers. He responded on Thursday 29 November 1990 to say that Barnet Dog Handlers was one of 22 authorities that maintain a body of constables that don't have agreements in place with the Police Complaints Authority.
In a House of Commons debate on 'Office of Constable in a Designated Police Force' on 5 July 1994, Alun Michael MP said:
The Minister made reference to the Barnet dog handlers and, as someone who was bitten by an Alsatian in Barnet at the age of 13, I intend to find out more about that body and why its strength at present is zero.
Mr Michael was referencing a meeting that had taken place the week before. A committee discussing the Police and Magistrates Courts Bill spent quite some time talking about the Barnet Dog Handlers on 28 June 1994. During the debate, Mr David Martin, MP for Portsmouth South, said:
I do not know whether the Wandsworth Parks Police – or for that matter, the Barnet Dog Handlers – have a police federation. It is a matter for the forces and their management to sort out
In response, Mr Mackinlay said:
I do not think that the Barnet Dog Handlers are constables and that is my point – various people wear uniforms, including park keepers, but they are not constables.
In the London borough of Croydon, for instance, there is a very good park ranger system but the park rangers are not constables. Incidentally, they wear police uniforms, which is not ideal, but they are not claimed to be police officers and I do not think that the Barnet Dog Handlers are either.
I challenge the Minister to say who is correct about the Barnet Dog Handlers. If I am correct the Minister ought to apologise for trying to trivialise an important point. If I am wrong however, and if the Barnet Dog Handlers are constables, we ought to be told – they should have 'constable' written on them.
This was followed by an astute observation by Mr Charles Wardle:
The current strength of the Barnet Dog Handlers force is zero, but the Barnet Dog Handlers exist and have those powers. My understanding is that if they were to build their strength from nil to one or more, they would have the status of a non-Home Office police force.
Mr Alun Michael sarcastically interjected:
Does not the fact that the Minister, in a Committee dealing with a major piece of legislation, can conjure up a body of dog handlers that does not exist and speculate about whether it might increase in size from zero to a small number, illustrate how little he has thought about the problem?
If that body has a strength of zero, there must be thousands of potential non-existent forces. There is no limit to the number of police forces that can be conjured up by the over-heated brain of the Minister.
Then Charles Wardle began listing obscure forces that had been omitted from the draft legislation:
The forces that he has omitted are the Boston Dock Watch, with an establishment of three; I have already alluded to the Barnet Dog Handlers, which currently has a strength of nil; the Epping Forest rangers have an establishment of 17; and the Universities police at Oxford and Cambridge have a strength of eight, plus 16 part-time specials.
Mr Wardle meant to say the Epping Forest Keepers.
Fast forwarding four years, while discussing the Police Bill, Alun Michael MP, now the Minister of State for the Home Office, again mentioned Barnet Dog Handlers on 13 February 1998:
I cannot resist the temptation to refer again to the Barnet Dog Handlers, which, we discovered, was technically a police force, although it did not really exist and it did not have any employees. They do not seem to have been sighted over the past three or four years or, indeed, for several decades before that.
The Dog Handlers are believed to derive their powers from the catchily titled Ministry of Housing and Local Government Provisional Order Confirmation (Greater London Parks and Open Spaces) Act 1967 Act.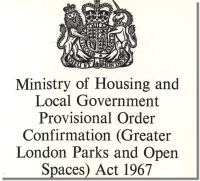 The Act says that councils can employ people to enforce any restrictions or conditions as they consider necessary. Specifically in Sections 18 and 19 it states that local authorities in London can appoint constables to enforce bye-laws. These constables must either be in uniform or have a warrant with them. They can seize and detain anyone who breaks the bye-laws if they don't know their true name and address.
If you have any further information about the Barnet Dog Handlers, please get in touch!
Share