Photographing
Documenting emergency vehicles and the emergency services by photography and video is very different to any other subject. Care needs to be taken not to jeopardise their operations, obstruct their work, take up their time unnecessarily, or place yourself in a dangerous position. However, it can be a very enjoyable and rewarding activity to photograph emergency vehicles, but there are pitfalls. This page is designed to be a rough guide to the do's and don'ts of emergency vehicle photography.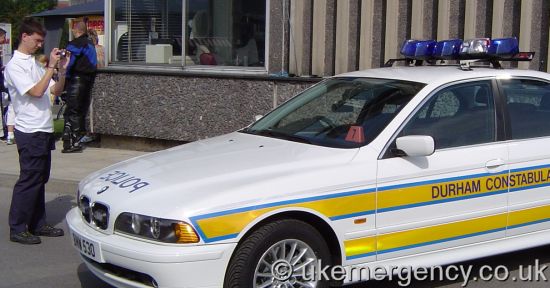 Approaching The Emergency Services
If you require a number of good quality shots for a model for example, it may be best to approach the emergency service by letter or e-mail to see if they can supply you with such photos. If they don't have the photos you want, it is sometimes possible to arrange a visit.
Open days are a great opportunity to photograph vehicles, to look around them and to chat to their users. Most emergency services also attend a range of functions throughout the year, school fetes for example, which will give you an opportunity to see the vehicles at a guaranteed location.
On occasions you might spot an emergency vehicle in the street that you wish to photo. If there are emergency service personnel in or near it, then it is courteous to ask if they mind you taking a photo. Most people are happy to let this happen. However, do not approach people if they are clearly busy with their work. If in doubt, don't take any pictures. There will always be another time! Also if any conditions are imposed on you (for example to hide the registration plates or not to enter a certain area) then heed them. If the vehicle is unattended or is being driven past you, then use common sense. If it is parked in a public place then it should be OK to take a photograph. If the vehicle is in motion, don't use flash photography which could distract the driver.
Other Enthusiasts
If you want to get in touch with other enthusiasts, there are a number of ways. One is to scour the Internet for websites on your subject of interest. Another is to join an enthusiast's club. The Police Vehicle Enthusiasts Club for example caters for a wide range of police vehicle interests, including preservation, photography and model making and collecting. Similar societies exist for other emergency services.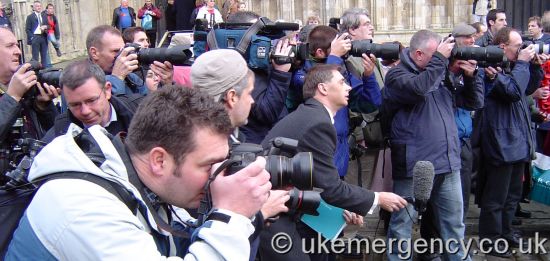 What Not To Do
Don't take any photographs when you have been told not to so by a member of the emergency services. Even in a public place, or when there have previously been no problems, circumstances change and you may not be in the best position to gauge the situation.
Don't take photographs of people in distress or injured. Imagine if you were hurt or in distress and someone took your photo and plastered it on the Internet – think of others.
Unmarked emergency vehicles are often unmarked for a reason. Don't take photos of them, especially police vehicles. They are not just used to surprise speeding motorists, but may carry out intelligence work, covert observations or transport VIPs. It may be compromising to have their descriptions and registrations widely known. Also, they are far less interesting that marked emergency vehicles.
Try not to be secretive when taking photographs. Be open that you are photographing a vehicle. This can avoid problems in our increasingly security-conscious world. If someone spots you poking a camera out from your jacket then walking off, they may report it to the police as a suspicious act.
Don't trespass on private land. This includes non-public areas of police / fire / ambulance stations (which may include some car parks). Although any photographs you do take will belong to you no matter how you got them, you could be prosecuted for trespassing, breeching secure areas or even compromising national security!
As mentioned above, don't use flash photography on moving vehicles. This is especially important if the vehicle is on a blue light run at speed as your actions may cause the driver to be distracted, or even worse to have a collision.
This page is designed to give basic advice to people who want to take photographs of emergency vehicles. No responsibility can be accepted for the accuracy or the following of this advice.
Share